Please click document below to review our remote education provision policy:

Online Home Learning with Google Classroom
Please use Google Classroom to access your children's teaching and learning resources.
You should have with you, your online individual log in details for our on-line platform.
Please use the attached user guide to support you in using this platform.
If you have any issues with accessing this please contact the school office via email,
office@rjmitchell.havering.sch.uk
stating your child's name, class and detailing thenature of the issue.
Home learning links
Please see the recommended weblinks below. Some of these may have been previously recommended by your class teacher and can also compliment some of your children's learning based activities and tasks. Please note some may require personalised login details to gain full access. This will be specified by the on-line resource owner e.g. BBC bitesize etc.
The following online resources cover multiple curriculum areas and include a mixture of printable and interactive activities for each age group. Resources from these providers are currently free for all parents and children to use:
Primary English
Primary Maths
Primary Science
Resources to Support Special Educational Needs

Parent support site for children with speech & language difficulties
Download a range of games and activities with supporting guidance

Free access on all devices to Clicker Resources. Engaging resources & child-friendly word processing support enabling all children to work independently.
Physical Activity & Wellbeing

Go Noodle

mindfulness & meditation
Joe Wicks 5 min

A workout for children
Just Dance 2020

Available on YouTube free of charge

5min - 30 min activities free
Disney Wake up & Shake up

Supermovers

Lots of active lea
rning opportunities
Children regularly use this fantastic resource at school. Parents please use the username & password from the year group page in order to access.

Known as "The World's #1 soccer skills teaching method". Over 36 skills and 10 challenges to complete.
Click link to register free during school closures
Havering School Sport

Follow @HavSchoolSport on twitter and instagram for daily challenges and weekly workouts as well as sharing useful resources for physical activity.

Table Tennis England have launched a series of videos showing children some fun skills activities. Don't worry if you don't have the right equipment - they say a frying pan & ball will do!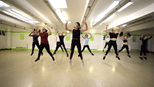 Follow Lauren in this dance tutorial for this year's Havering Big Dance which takes place on 9th July
Each week Lauren Mack (dance & fitne

ss instructor) will be producing short 25 minute workouts (including short challenges) for children and families to complete together.

We have put together some indoor and outdoor activities for children and family members to enjoy together.
We have been asked by a growing number of parents about the potential of using Zoom online lessons. We will not be using Zoom for the foreseeable future but we will be offering sources advocated by the DfE such as BBC Bitesize, National Oak Academy and other teaching resources such as Hamilton Home Learning, Twinkl etc.
Keeping your child(ren) safe online
Using websites for home learning needs to be practiced securely. The following online safety websites may assist you:
London Grid for Learning - for support for parents and carers to keep their children safe online
Net-aware – for support for parents and carers from the NSPCC
Internet matters - for support for parents and carers to keep their children safe online
Parent info - for support for parents and carers to keep their children safe online
Thinkuknow - for advice from the National Crime Agency to stay safe online
UK safer Internet centre - advice for parents and carers