PTA UPDATE
PTA UPDATE
13 November 2023 (by admin)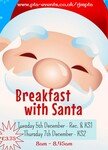 Breakfast with Santa - £3.75
Children are invited to join us for a fun and festive breakfast to start their school day. Breakfast will include cereal, toast, juice/milk, a visit and gift from Santa!
For more information and to book a place, please visit:
Christmas Cards
For those who have taken part in the Christmas Card Project, Xmas4Schools have now scanned in the returned/completed templates. Participants will have received log in details from Xmas4Schools to access the online portal to make an order. The portal is open now. The deadline for all online ordering is Saturday 11th November.
Visiting Panto – Tuesday 5th December
The PTA are funding the visit of a Peter Pan Pantomime to school on Tuesday 5th December for all pupils to enjoy. We will be giving pupils the opportunity to purchase a combo snack pack to consume whilst watching the show. For £1 they will receive a cup drink, cup of popcorn and a Funsize chocolate bar or bag of Haribo. If your child wishes to make a purchase, they will need to bring in £1 on the day in a named purse, wallet or envelope.
Preloved School Uniform
Our Online Preloved School Uniform Shop has been updated for latest stock! Grab yourself some recycled bargains and raise funds for school at the same time! Our stock is regularly being updated, so remember to keep checking back!
https://www.pta-events.co.uk/rjmpta/index.cfm?event=products